Happy weekending everyone! Last Friday, Kirsten and I whipped up this mixed berry crumble and I must say, after we finished cooking and shooting recipes in her sunlit kitchen, and we finally sat down, I couldn't stop eating the crumb topping!
Our nutritionists really did a lovely job creating this recipe. It's packed full of berries – use any combination of your favorites (we used a third each of blackberries, blueberries, and raspberries) – and it's vegan and gluten free! It's perfect as a sweet addition to brunch or as a secretly healthy dessert.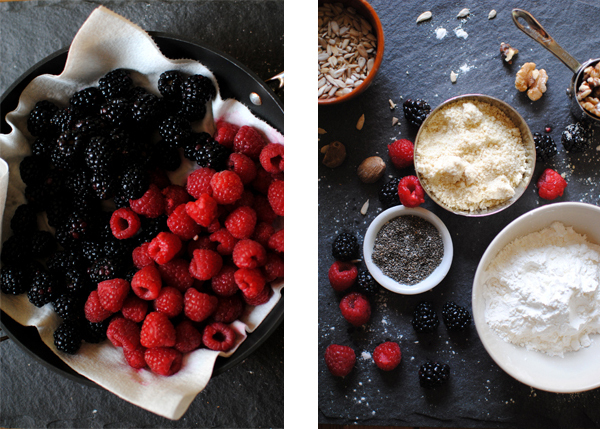 Another thing we loved about this crumble is how easy it was to make. When you make a pie, there are a lot of steps that go into it – and a lot of places things can go surprisingly, horribly wrong. We're not going to talk about that time that I overfilled a pie and it bubbled over and filled the kitchen with smoke. I've learned a lot about baking since, but this mixed berry crumble is something even a novice baker can ace. There's no dough to blind bake, nothing to roll, and the crumb topping is very forgiving.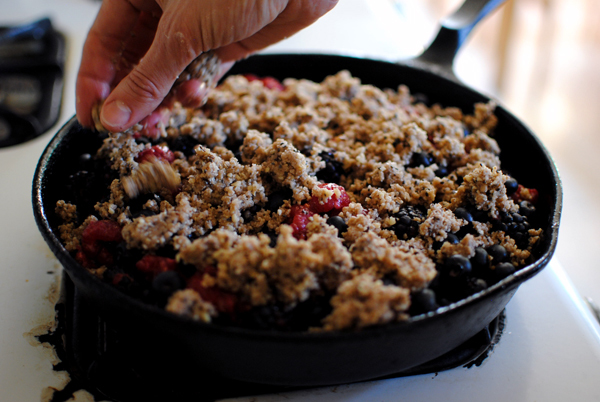 Once you've combined the ingredients and topped the crumble (which I kept calling a cobbler despite the fact that it had a streusel-like topping), just pop the cast iron in the oven and let it bake. If you haven't calibrated your oven, you may want to check on it at 30-35 minutes to see if the top has browned. If it has, remove the crumble and let it cool.
Then, enjoy!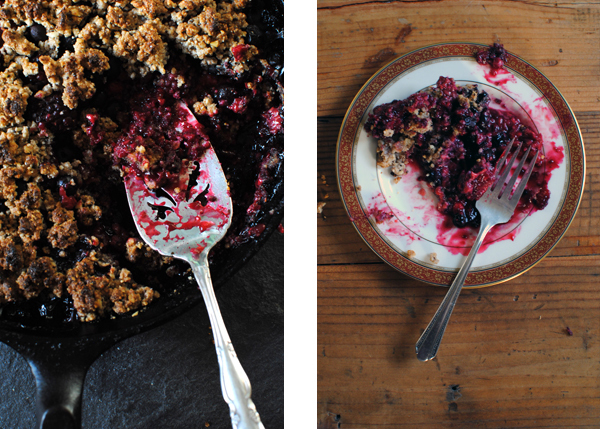 Mixed Berry Crumble
Total Time: 1 hr. 10 min.
Prep Time: 20 min.
Cooking Time: 45 min.
Yield: Makes 12 servings, about 2/3 cup each
Ingredients
Nonstick cooking spray
¼ cup raw walnuts
¼ cup raw sunflower seeds
1 Tbsp. chia seeds
½ cup almond flour
½ cup arrowroot flour (or cornstarch), divided use
2 tsp. ground cinnamon, divided use
½ tsp. sea salt (or Himalayan salt)
5 Tbsp. pure maple syrup (or raw honey), divided use
2 Tbsp. solidified coconut oil
2 tsp. pure vanilla extract, divided use
6 cups fresh mixed berries (blackberries, blueberries, and raspberries)
3 Tbsp. fresh lemon juice
½ tsp. ground nutmeg
Preparation
1. Preheat oven to 350° F.
2. Lightly coat a medium cast iron (or ovenproof) skillet with spray
3. Place walnuts, sunflower seeds, and chia seeds in food processor; pulse to coarsely chop. Do not grind into a fine powder.
4. Add almond flour, ¼ cup arrowroot, cinnamon, and salt; pulse to blend.
5. Add 2 Tbsp. maple syrup, oil, and 1 tsp. extract; pulse to create a crumbly mixture. Set aside.
6. Place berries in a large bowl; sprinkle evenly with remaining ¼ cup arrowroot.
7. Add remaining 1 tsp. cinnamon, remaining 3 Tbsp. maple syrup, remaining 1 tsp. extract, lemon juice, and nutmeg; mix well.
8. Place berry mixture in prepared skillet. Top evenly with walnut mixture.
9. Bake for 40 to 45 minutes, or until bubbly.
10. Let sit for 10 minutes before serving.
Tip: To save on cost, I recommend going somewhere you can buy them in bulk (such as Costco or your local farmers market).